02.16.2013 NIH requests your input concerning Chimpanzee retirement
09.21.2012 NIH claims to retire 110 Chimpanzees
08.28.2012 NIH requests your opinons by Sep. 5. Please help.
08.26.2012 Emory admits to cooking the books
10.12.2010 Column E ...Number of animals at Emory/Yerkes experiencing pain
5.28.2010 South African PFP supporter requests Monkey Town exposure. If you're planning to visit SA, be sure to carefully consider where you'll spend your time and money.
4.17.10 Tag wearer Mike Nicosia reports on Wisconsin primate
3.21.10 Emory/Yerkes' 2008 Column E Pain Data available
2.16.10 UCLA's Anti-Science Profs debate Dr. Ray Greek, Dr. Niall Shanks and Robert C. Jones, Ph.D.
2.16.10 Slide presentation at UCLA debate
12.07.09 UMDNJ list of body parts from Yerkes, LEMSIP et al.
11.18.09 Yerkes' negligence kills sooty mangabey. Please let USDA know your thoughts.
08.06.09 Eight unidentified from Yerkes are not forgotten.
Laboratory records received for Minnesota's 00FP8
Tenacity pays off in attempts to obtain Wisconsin records.
UCLA openly plots to ignore FOIA and requests from the public.
UCLA's Dario Ringach busted for publicly lying about research?
Pharma kickbacks lead to $9.3M grant from NIH frozen while Emory's Nemeroff pulled grant affects primate abusers. Please share the videos Part1 Part2
PFP Appeals to Wisconsin Supreme Court in Exhibit Hall suit
Wisconsin's Harlow Lab animal abuser, Chris Coe, refuses delivery of 12 year-old girl's petition for mercy.
12 year-old Savannah Limke, a Madison, WI. resident, organizes locals and petitions Univ. of Wisconsin to release its hostages
Colorado's Nancy Gregory exposes Wisconsin's stonewalling
06/11/08- PFP files response to UCLA's lame claims.
05/02/08 Primate Freedom Project files final response in UCLA suit.
04/28/08 Tagwearer's YouTube tribute to Maisy Vervet #1994093 at UC Davis by Susan Elias ***Link to this video has been disabled due to California Board of Regents threats and demands. For more information, please see link directly above to explain this action.
Primate Freedom Project responds to California Board of Regents
UCLA Animal Terrorists sue UCLA Primate Freedom Project to Shield Researcher's Cruelty.
Report from Assn. of Primate Veterinarians. Read about the primates in their labs...perhaps a lab close to you!
Feminist Gloria Steinem Asks that Covance be dropped as a Conference Sponsor----and gets it done!!!
Emory/Yerkes' negligence kills Rhesus PWc2
New!!! New Simian Census (including prosimians)
PFP Activist Wins Media Award for Exposing Truth at Wisc Lab
Are monkeys more compassionate than the Dalai Lama? An open letter to the 14th Dalai Lama
BIG WIN! Univ. of Utah's Donahoe Stops Primate Experiments!
BIG WIN FOR PRIMATES!!! WISCONSIN JUDGE RULES FOR PFP NATIONAL EXHIBITION HALL!
Attn. UCLA Freedom Tag wearers: New contact address for Tag info
U. Wisconsin destroys video in response to activists' open records requests
UCLA vivisector, Ringach, stops experimenting on primates
Using Primates in Research--a public discussion in Madison, July 18
A Letter from Dr. Goodall and other scientists. 19 Scientists Oppose Yerkes' Proposal to Amend its Endangered Species permit and Kill Mangabeys for 'Conservation' Money.
Help outlaw ALL vivisection in Rio de Janiero
19 Scientists including Jane Goodall Oppose Yerkes' Permit Amendment
VIDEO***Madison, Wisconsin --Debate Using Animals in Research -- PFP's Rick Bogle and UW's Eric Sandgren
Primate advocates educate Minneapolis citizens about useless experiments that don't help sick people. View photos and video of experiments inside Minneapolis laboratory.
Yerkes requests permit change to kill mangabeys that are 'too costly' to maintain while financially supporting new venture. Please help.
Essay by Rick Bogle: An Argument for Ending the Use of Animals in Biomedical Research
Read Debate Coverage at Links Below:
Primate Freedom Project begins in Minnesota
DEBATE! Eric Sandgren, Chair of UW's ACUC, has agreed to debate one of UW's most vocal critics, Rick Bogle, on Thursday, March 23 at 7:00 p.m. at 2103 Chamberlain Hall, Univ. of Wisconsin, Madison. Don't miss it.
Wisconsin University Union Chair Files Lawsuit, Claims UW Animal Research Oversight Akin to McCarthyism, Guantanamo
Help save 4 Rhesus at Univ. of Conn. from imminent death
Yet another invitation issued to Emory/Yerkes to discuss animal experiments
Emory/Yerkes receives 'Official Warning' from USDA after deaths
Emory says they're 'Confused' about Animal Welfare Act Reqs
Alabama Records Prove Experiments are Repetitive and Cruel
Primate Freedom Project seeks injunction to block sale of Exhibition Hall property.
Dover Chimpanzee dies due to Emory/Yerkes' Negligence. USDA fines Emory/Yerkes.
Primate Freedom Project asks court to decide Exhibition Hall property claim dispute.
Proposed ecstasy experiments, both expensive and wrong. Write your congresspersons today.
High school student (and Freedom Tag wearer) visits UNC vivisector
Vivisection A to Z... Interested in what's going on behind closed laboratory doors at the Wisconsin National Primate Research Center? Vivisection A to Z reviews experiments of each vivisector at WNPRC and what the primate experiences. Group meets the second Tuesday of each month, 7:00pm at Memorial Union. Room assignments vary so please check www.union.wisc.edu/TITU/mutitu.htm Free and open to the public.
PFP's Rick Bogle files suit against UW's PIO for false statements.
Seeing through Univ. of Wisconsin's many lies
UW researcher, Terasawa, whines when caught
USDA busted Terasawa, UW remained silent
CONFIDENTIAL, INTERNAL UW docs re: Teresawa. UW has nothing good to say about her sloppy experiments.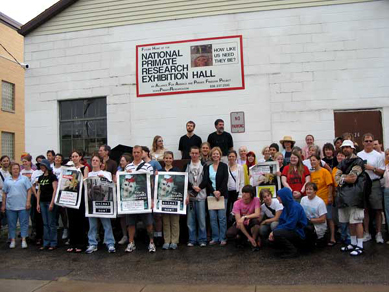 Future home of
The National Primate Research Exhibition Hall
June 4, 2005, Madison, WI.
Like a Holocaust Memorial at the Gates of Auschwitz, the National Primate Research Exhibition Hall makes the clear statement that what is occurring in these labs across the country and the world is wrong and must be stopped. Sandwiched tightly between the historic and infamous Harry F. Harlow Primate Psychology building and the National Institutes of Health's flagship vivisection lab, the Wisconsin National Primate Research Center, the Exhibition Hall's permanent presence and clear voice will be impossible to ignore.
click www.primateresearch.com to visit
---
---
Home Page | Our Mission | News
What Are Primate Freedom Tags | Order Tag
Primate Research Centers | Resources